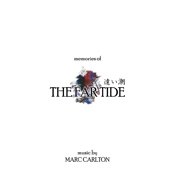 How many millions of imagined worlds have passed away beyond all hope of experiencing, having never been manifested or otherwise recorded by their creators? I often wonder if this is not among our greatest losses.

The Far Tide was a computer game project I started in 2000 with a small group of friends, envisaged as a cinematic role-playing adventure in the tradition of the popular Final Fantasy series. Though the game's characters, story and history reached the advanced stages of planning, insufficient time and personnel for such an ambitious production ultimately led to the indefinite shelving of The Far Tide a few years later. Nevertheless, a wealth of soundtrack material had also been produced during the period of active development, and two audio CD volumes were released in 2001 and 2003, featuring background music, character themes, and cutscene scores from throughout the game.

In 2010, after realising that I personally had not achieved a full sense of closure for this work I had once been so immersed in, I have revisited the soundtrack and selected those tracks which myself and the other creators felt best represented the game's events and our memories of the project. This was an opportunity to polish up or completely re-record certain pieces that had been rushed originally, and also to include tracks that I had not previously issued at all on CD (particularly the triumphant ending suite) or got round to recording in the early sessions. The resulting compilation is as close to a definitive statement of the sound and atmosphere of The Far Tide as I am likely to get.

Memories Of The Far Tide is a small souvenir - perhaps the last - from a world you may never know.
| | | |
| --- | --- | --- |
| 1. | The Lost Crusade | (2,06) |
| 2. | Kalan's Theme | (3,55) |
| 3. | Skirmish 0 | (4,07) |
| 4. | Clef's Theme | (3,34) |
| 5. | Shen | (3,58) |
| 6. | For Absent Friends | (2,05) |
| 7. | Don't Hide | (4,50) |
| 8. | Blake's Theme | (6,12) |
| 9. | A Long Time To Dream | (3,21) |
| 10. | Atrypha | (4,11) |
| 11. | Skirmish 1 | (4,08) |
| 12. | Yokari's Theme | (4,23) |
| 13. | The Wanderer / Meeting Again | (4,45) |
| 14. | Two Years Of Sanctuary | (2,41) |
| 15. | Armament | (3,28) |
| 16. | Ost Haevarda | (5,41) |
| 17. | My Last Breath / Main Theme From The Far Tide | (14,12) |
| 18. | Main Titles | (1,56) |